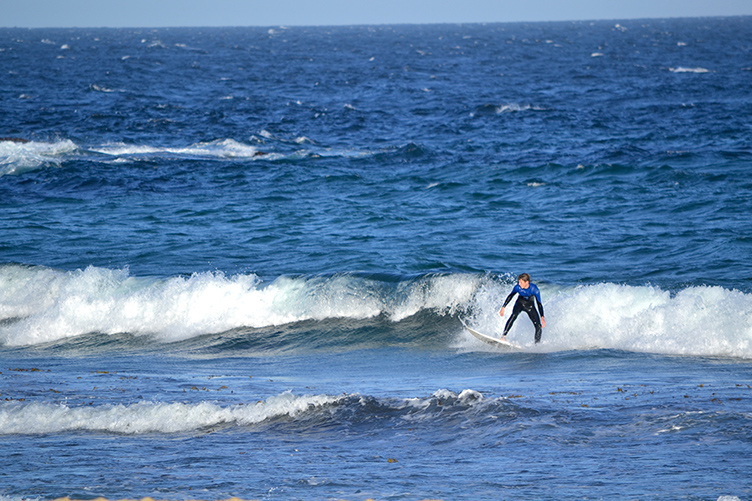 Many people consider Australia to be one of the best surfing countries in the world. No surprise there. The surf spots are countless and the waves iconic.
Currently, there are about 21 national surfing reserves in Australia and the list is still growing.
Maroubra, nicknamed the "Bra", is one of those surfing reserves, declared in March 2006. The breaks here are phenomenal (not to mention consistent) and the views breathtaking. Even better, it is only a few kilometers from Sydney CBD.
If you are looking to have a taste of Australian waves and the surf culture, Maroubra is a great place to start.
And here is all you need to know about surfing in Maroubra.
Where to Surf in Maroubra
1. Maroubra Beach
This beach stretches about one kilometer in length. You are sure to catch waves all year round—talk about consistency.
Some believe it is one of the most dangerous beaches in Sydney. But two lifesaving clubs patrol all year round. Just be careful and don't be overconfident.
Maroubra beach has a mainly sandy bottom but there are reef pockets at the north and south corners. Great breaks can be found all along the beach—left and right beach breaks and a left point break.
According to Surf-Forecast, the best time to surf here is during Winter, specifically July. During other times, the waves are mostly ideal for beginners and intermediate surfers.
You should know that this is a cherished surf spot for locals. The coastline is very important to the Australian surf community.
That said, the locals can be a little too protective, especially the 'Bra Boys'. Avoid getting into trouble by being respectful.
Oh, and the beach can be packed on weekends—but not as much as Bondi beach.
2. Bronte Beach
Not far from Maroubra is Bronte beach, another spot you may want to check out.
It is less crowded and you can get a really good surf here. It mainly offers left hand beach breaks and sometimes a right hand reef break.
The waves may be too challenging for beginners, so be careful if you are still learning the ropes.
The lineup at Bronte beach is more relaxed, compared to Maroubra. But that doesn't mean that you should forget surfing etiquette. You can still get into trouble with the locals.
You should also know that this surf spot is not reliable. It can be inconsistent. Be sure to check the surf cam first so you don't get disappointed.
3. Bondi Beach
Only go to Bondi Beach if you don't mind the crowd. After all, it is the most popular beach in Australia. It is also very close to the city (about half an hour using public transport).
The good thing about Bondi beach is that anyone can catch a wave there, regardless of your skill level. And there are adequate surf schools and rentals for the complete newbies and visitors.
If you are confident in your surfing skills, go to South Bondi. You will get some strong right handers. Ben Buckler, in the north, is also another wonderful spot for serious surfers.
The beach is relatively safe and the only downside is probably the crowds. It can be a nightmare during the weekend.
Local Surf/SUP Shops and Clubs in Maroubra
1. Let's Go Surfing
Let's Go Surfing is a surfing school offering packages for adults, groups, and families. They also teach standup paddleboarding at Malabar Beach, in case you are in the mood for a more relaxed activity.
It doesn't matter whether it's your first time seeing a surfboard or whether you are an intermediate surfer. The guys over at Let's Go Surfing will help you get out there and have some fun.
They even have a private lesson package if you want a dedicated instructor.
The school also has afterschool and holiday surf programs for kids.
2. Maroubra Beach Surf and Skate
If you are a tourist and you didn't bring anything, don't worry. You can get surfboards, paddleboards, soft boards, and skateboards at Maroubra Beach Surf and Skate.
Additionally, they have fins, roof racks, repair kits, board bags, and leashes. You will also get wetsuits for men, women, and kids. They sell and rent pretty much anything a paddler or surfer may need.
And if they don't have what you are looking for, they promise to get it in—just for you.
3. Maroubra Surf Life Saving Club
This club is well known for its contribution to the surf community in Australia.
Since 1906 (yep, it has been around for a long time), the club has been offering lifesaving services.
They have a Nippers program where the seasoned surfers pass their knowledge to the younger generation.
The club will also support you if you plan on becoming a pro surfer.
Maroubra Beach Surf Cams and Forecast
Check out the condition of the surf so you know what you are getting yourself into here or here.
Restaurants in Maroubra
1. Pool Café
After a thrilling surf session at the Maroubra beach, make sure you visit Pool Café. Its location is amazing and you will be treated to spectacular views as you enjoy your meal. If you are lucky, you may spot a whale or two.
They are open seven days a week and the food is fresh. Although the place can be busy, it is affordable and the staff are nice.
2. Chalk Espresso Bar
Everyone who visits Chalk Espresso Bar comes out praising their coffee. Saying it is good is an understatement.
And if you go during the night, make sure you taste their tacos and cocktails. You will want to come back.
To add to that, the atmosphere is awesome and the food is reasonably priced.
3. Kokoroya Japanese Sushi
For people traveling with kids, it can be hard to find a nice family-friendly place to eat. But if you are in Maroubra, you won't have to worry because Kokoroya has got your back.
The restaurant has kids' high chairs and a play area.
Their sushi is a must-have—it is popular in all of Sydney. People rarely complain even when they have to wait a while to be served. They know the food is worth it.
This is where you go when you want authentic Japanese food and ambiance.
Conclusion
The Maroubra National Surfing Reserve has a lot to offer to surfers– beginners and pros alike. The waves are consistent throughout the year and the views are glorious. There are surf schools and shops to help you surf like a local. And when you are done surfing, you can enjoy some good food and drinks at one of the above restaurants.