Lennox Head, often referred to as just Lennox, is situated between Ballina and Byron Bay. It had a population of fewer than 10,000 people in the 2016 census.
In 2007, Lennox Head was declared a National Surfing Reserve.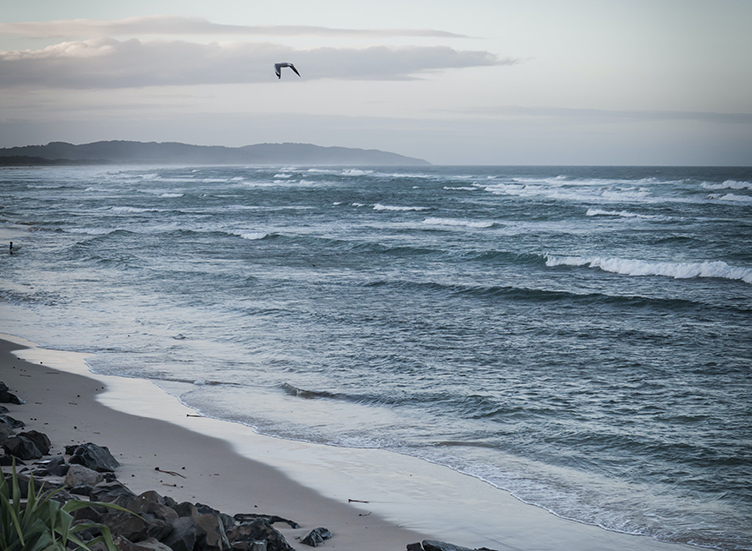 This seaside village is popular among surfers, mainly because of its headland, Lennox Point. The point break here is phenomenal.
But that is not the only place you can surf. If you are looking for a Lennox Head surfing experience, an unforgettable adventure awaits you. There is something for everyone—from beginner surfers/paddleboard surfers to the veterans.
Take a look.
Best Spots to Surf and SUP in Lennox Head
1. Lennox Point
If you have confidence in your surfing skills, then you will love Lennox Point. People have referred to the right hand point here as the "finest in Australia". It is about half an hour from Byron Bay.
This surf spot is only ideal for experienced surfers. The swells can be huge and the currents strong. But it is beautiful to watch, even though you can't get a piece of the action.
When you are surfing here, beware of the rocks at the beach. You will also find many experienced local surfers so be respectful. You wouldn't want to have your nose broken, would you?
2. Flat Rock
Flat Rock, the southern border of the reserve area, can provide big surf on special occasions. But normally, you will find slow waves, perfect for beginners and intermediate surfers.
It has become a popular spot for people learning how to surf. And it is also where many foreign backpackers get to experience their first surf.
However, there is a mean side to Flat Rock's intertidal rock platform. The south side left hander does not break often. But at its best, it is a dangerous and thrilling left hand wave breaking in front of a rocky platform.
On a day such as this, the spot is best left to the experienced surfers.
3. Boulder Beach
People sometimes refer to Boulder Beach as the backside of Lennox Point. Its edge is lined with stones and boulders and the entry points are tricky.
As far as surfing goes, this spot wouldn't be ideal for beginners. But veterans will have a blast.
This is a good alternative to some of the other surfing/SUP spots which are usually crowded.
Surfers should be careful surfing here because you can easily get bashed onto rocks (there was an incident as recently as 2020).
Boulder Beach is not just good for surfing. The views can be breathtaking. Check out the southern grassy point for the best views.
4. Seven Mile Beach
This is a long beach, about seven miles long, that is popular among beginner surfers.
There are many breaks along the Seven Mile beach. In some spots, the flat sand surface causes the waves to break smoothly and gently, hence why learners love it.
But it also has some serious breaks that would offer a thrilling challenge to intermediate and veteran surfers.
Local Surf/SUP Shops and Clubs in Lennox Head
a. Lennox Head Surf Shop
This is a local surf/SUP shop that rents a wide range of stand up paddleboards, bodyboards, longboards, soft boards, and surfboards. They say their mission is "to keep in you in the water longer."
b. Let's Go Surfing Lennox Head
The magnificent waves at Lennox Point can be intimidating for visitors. But with Let's Go Surfing, you will fit right in. They will help you explore Ballina and Lennox Head like a local. They have passionate instructors who know what they are doing.
The price you pay covers lessons and all the necessary equipment, including sunscreen.
c. Lennox Surf Club
This club offers rescue services in the area as well as sporting events.
Members of the club have access to a lot of education and training opportunities.
Check them out and see more of their services.
Lennox Head Beach Surf Cams and Forecast
See what the surf is like at Lennox Head right now here or here.
Restaurants in Lennox Head
1. Lennox Gelato and Coffee Co
Make sure you pass by for their ice cream and gelato. Many people swear the gelato is the best they have ever had. The coffee is pretty amazing too.
You may have to wait in line for a while but it is worth it. They have affordable prices and the service is great.
2. Beef and Beach Lennox Head
After working up an appetite with all the surfing and swimming, you may want to try their food. You will not regret it.
The seafood is to die for and the view from the restaurant is stunning.
3. Shorty's Restaurant & Bar 
Shorty's is located at the center of the town and the ambiance is awesome. Cool off with their delightful cocktails and make sure you taste some of the local drinks.
Conclusion
If you are an avid surfer, or you have always wanted to learn, there is no better place to be than Lennox Head. The spots are plentiful and the views scenic. Besides, there are a lot of surf/SUP shops to help you get started. For the veterans, the point break here will give you the experience of a lifetime.